The History of "Habermehl"
Gordon Habermehl was known as a local carpenter in the rural forested neighborhoods of Muskoka Ontario during the 1950s and '60s. In 1963, after years of building barns with his brother, Gordon decided to start his own construction business. Utilizing the reputation his family name had built in the community, Gordon simply called his company "Habermehl". This name was one of trust and integrity, having cultivated an association with quality craftsmanship.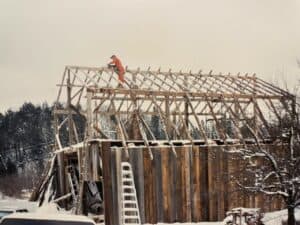 Gordon framing a barn for renovation during a chilly Muskoka day 
Gordon and his wife Marie felt a duty to teach their four children, Lyle, Cheryl, Dwight, and Lynn, the value of hard work and integrity in everything. For their middle child, Dwight, these lessons were often instilled through working with his dad on construction sites. When Dwight was young, he and his dog Rusty would ride with Gordon to job sites in his mustard-yellow 1975 crew cab Ford F150. Once Dwight was a bit older, Gordon began teaching him how to lay a foundation, frame a building, and wire a house.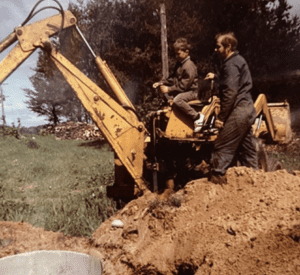 Gordon teaching his son, Dwight, how to operate machinery 
In 2001, Dwight began applying his father's teaching and craft in Nova Scotia, bringing the name Habermehl Contracting to the East Coast. For over twenty years, Dwight has led a team in building and renovating homes in HRM and beyond. Today, Habermehl Contracting has a large "family" of skilled staff members, including several of Dwight's children who grew up around the family business that their grandfather started.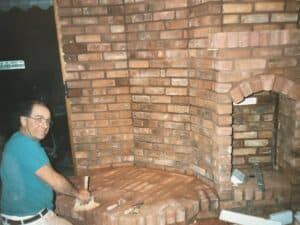 Gordon hand-laying a custom fireplace
From its modest establishment in 1963 to its East Coast evolution in 2001, the Habermehl family name has been designing, building, and renovating homes with old-fashioned values and excellence for over half a century. We take seriously the business of creating dream homes. After all, building homes is what our family is built on. Start your project journey with Habermehl Contracting today!
 – Rachel Habermehl, July 22, 2022